Main content starts here, tab to start navigating
About Us
Magnolia Society is a lively restaurant in the heart of Columbus, TX. We use the best ingredients and provide a great atmosphere.
Looking forward to hosting you soon!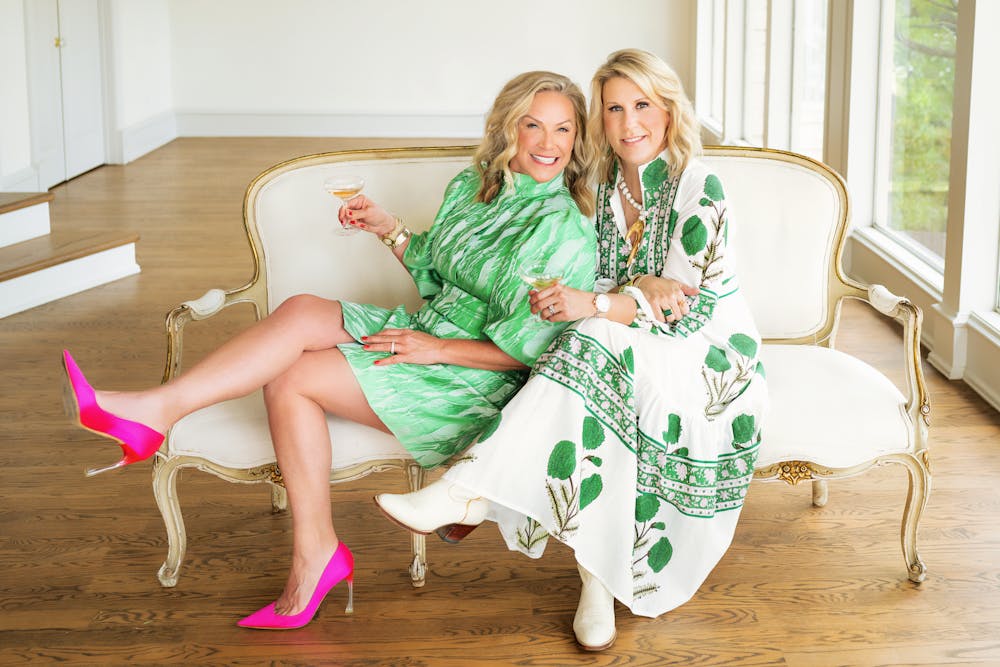 Our Team
The Visionaries
Sherry and Christine went to school in Columbus, TX before going their separate ways and starting their families. Now they have reunited to create Magnolia Society, a restaurant and members-only club offering the town of Columbus, TX a place to relax over a glass of wine or cocktail.
Sherry spent several years closely connected to the restaurant industry in Houston before moving back to Columbus after her youngest daughter graduated high school. Christine and her family moved back to Columbus to raise their daughters near family after several years in Colorado. The duo had the desire to bring more to Columbus. Their goal is to boost the desirability of the town and fill a void of food and wine.
Sherry and Christine went on the search for the perfect location and that's when Magnolia Society came to life. Each has been able to bring to the table a vision and valuable insight from travels and experiences. They have created a venue sure that covers all desires for great wine, cocktails and amazing bites!
Chef Steven Konarik
With an illustrious career spanning several prestigious establishments, Chef Steven Konarik has established himself as a culinary maestro with a knack for creating extraordinary dining experiences. With a passion for exquisite flavors and an unwavering commitment to culinary excellence, he has garnered a reputation as one of the finest chefs in the area.
His culinary journey began at A Fare Extraordinaire, where he honed his skills in the art of catering. Working tirelessly to perfect his craft, he quickly gained recognition for his innovative approach to food and his ability to transform ordinary ingredients into extraordinary dishes.
After leaving A Fare Extraordinaire, Steven embarked on a new adventure at Tony's At Home, which later evolved into in-house catering at Tony's Ballroom, Vallone Restaurant Group, in Houston. During this time, he worked closely with the renowned culinary team, learning from some of the industry's most respected professionals. This experience provided him with invaluable insights into the world of fine dining and refined his culinary techniques.
Following his time at Tony's, he opened as owner at Kurant Events, where he served as the head chef for an impressive 18 years. At Kurant Events, he curated unforgettable dining experiences for a diverse range of clientele, including numerous high-profile individuals and celebrities. His ability to create custom menus tailored to the specific preferences and dietary requirements of each guest set him apart as a chef who truly understands the art of personalization.
Throughout his career, Steven has delighted the palates of countless individuals with his culinary creations. His passion for using fresh, locally sourced ingredients, combined with his mastery of various culinary techniques, has allowed him to create dishes that not only tantalize the taste buds but also showcase his artistic flair.
Today, Chef Steven Konarik continues to push the boundaries of culinary innovation, constantly seeking new flavors and techniques to elevate the dining experience. With a commitment to excellence and a dedication to providing unforgettable meals at Magnolia Society.
The Society: Wine with Company
We are a collective. A society. Our goal here at Magnolia Society is to create a relaxing setting and atmosphere for residents of Columbus to come together and enjoy delicious food, wine, and cocktails.
Located in the heart of the historic downtown of Columbus, Texas, Magnolia Society is housed in a century-old building from the 1800s. This building was originally built as The Hotel Colorado. While we honor the name, we are strictly a wine and cocktail bar, not a hotel.
Our wines are carefully sourced from across the planet. A beautiful balance of staple world-renowned bottles, and new up-and-coming brands.